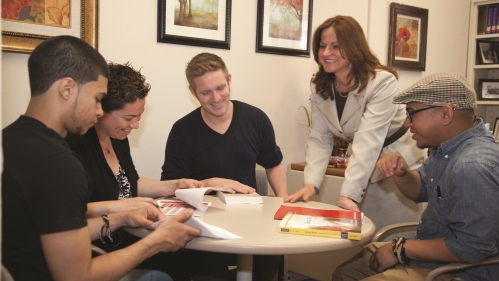 Violence and Crime Intervention Certificates
Certificate Program in Trauma Response and Crisis Intervention
This clinical certificate program is designed for clinicians, mental health professionals, and practitioners from other disciplines who wish to enhance their knowledge and skills in the field of trauma response and crisis intervention. Webinars will address a variety of traumatic events such as interpersonal violence, natural disaster, terrorism, and personal/family crises.
Webinars offered in this certificate program are designed as clinical workshops. Certificates of completion are offered after each workshop and upon completion of the final certificate. Participants not seeking the full certificate program are welcome to take individual webinars.
To receive the Certificate in Trauma Response and Crisis Intervention, a participant attends: 
9 Required Webinars
2 Elective Webinars
Required Webinars
The Effects of Trauma across the Developmental Spectrum
3 CE Hours, Clinical
Describe the effects of trauma on the emotional, cognitive, neurological & physical human systems
Discuss neurophysiological and neurochemical changes and the efficacy of medication.
Examine the short and long term effects of trauma across the life span (infancy, child, adolescent, adult)
Identify the differences between normal grief and grief resulting from trauma
Foundations and Models of Crisis Intervention and Trauma Response (2 days) 
6 CE Hours, Clinical
Examine the history and evolution of crisis intervention and trauma response over the past century
Describe the different models and techniques currently used with different populations and discuss their effectiveness
Identify public and private resources within the community available to clinicians and individuals affected by trauma
Review the international psychosocial intervention programs and lessons learned from these efforts
Working with Trauma: Understanding Vicarious Trauma and the Importance of Self-Care
3 CE Hours, Clinical
Discuss secondary or vicarious traumatization among clinicians who work with trauma
Explore the issues of transference and counter-transference as it pertains to working with trauma
Identify practical skills/methods for self-awareness/self-care
The Role of Diversity in Trauma Treatment: Overcoming Barriers and Empowering Ethnic Identity 
3 CE Hours, Clinical
Examine how culture and ethnicity influence the experience, effects and treatment of trauma
Explore how pre-incident mental health and pre-existing mental health conditions (e.g. substance abuse, affective disorder) influence the experience, effects and treatment of trauma
Identify special populations (e.g. refugees, children of war, etc.)
Responding to Disaster 
3 CE Hours, Clinical
Describe different types of disaster including natural disaster and terrorism
Discuss individual and community responses to disasters
Examine the four phases of disaster response: mitigation, preparedness, response and recovery
Describe the elements and protocol of New Jersey's disaster response and available public and private resources
The Ethics of Trauma and Disaster Response: Doing Right, Doing Good 
5 CE Hours, Clinical or Ethics
Explore ethical consideration such as confidentiality in crisis intervention and trauma response
Discuss ethical issues such as palliative care and family presence during death and critical medical treatment
Discuss frameworks for making difficult ethical decisions
Family Treatment Approaches in Working with Trauma 
3 CE Hours, Clinical
Examine how trauma experienced individually or as a group, affects the family system
Utilizing the different family systems theories, explore approaches to treatment
Group Treatment Approaches in Working with Trauma 
3 CE Hours, Clinical
Explore different group treatment modalities including defusing, debriefing and education, as well as short and long-term group therapy
Describe how the modalities apply to different populations
Examine the curative factors unique to group treatment 
Individual Treatment Approaches in Working with Trauma 
3 CE Hours, Clinical
Delineate the different theories related to trauma work
Discuss the major approaches to trauma treatment, including their philosophical assumptions, strategies and techniques employed, and available outcome research
Consider the role of spirituality and complimentary treatments in treating trauma
Two electives are required in addition to the required webinars.
The Certificate Program in Violence Against Women
**We have recently made some changes to the structure of the Certificate program.  There are now 2 Certificates - Foundation and Clinical.  Please see the descriptions below for the new structure.
Professionals interested in the program may choose to take any individual workshop that interests them or they may pursue the following certificates:
Through the Certificate program's unique multidisciplinary perspective, the various VAW Certificate levels are designed to meet the needs of individuals looking to advance their general understanding of VAW issues, while also encouraging professionals to pursue Certificates that offer an in-depth understanding in their particular area of practice. All workshops can be taken individually or as part of a Certificate program.
For more information on the program, please email ce@ssw.rutgers.edu or call 848-932-8758.